Fabrication of an Aluminum Enclosure for the Telecommunications Industry
(click on thumbnail to enlarge)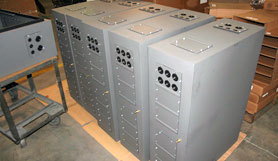 A customer in the telecommunications industry needed a company with the capabilities to fabricate a custom aluminum enclosure that would satisfy their exacting specifications. G & M Metal Fabricators were commissioned to complete the required work for the fiber optic splice enclosure highlighted here. Fabrication included the cutting, forming, punching, and welding of .090" and .063" aluminum. Our press brake and punch press equipment were utilized for the precision manufacturing of this part, holding the tight tolerances of ±0.010" to ±0.005". The enclosure was then treated with a powder coat finish prior to assembly. Quality and accuracy were assured with our thorough visual and dimensional testing procedures.
Completed dimensions of this custom enclosure were 30" long x 12 ½" wide x 40" high. We manufacture 100 units per year for this customer with shipments to Texas and Mexico. Turnaround time for a project of this magnitude is 6 weeks. We are dedicated to providing consistent, high quality, and cost effective metal fabrication, offering start to finish production. For more information about this custom telecommunications enclosure or any of our precision manufacturing services please see the table below or contact us directly.
Highlights of this Telecommunications Enclosure Project
Product Description

Fiber Optic Splice Enclosure
Metal Fabrication Capabilities Applied/Processes

Primary:
Fabrication

Cutting
Welding
Forming
Punching

Secondary:
Assembly
Equipment Used to Manufacture Part

Press brake, Punch Press, Welding
Overall Part Dimensions

Length: 30", Width: 12 ½", Height: 40"
Tightest Tolerances

XX= +/- .010, XXX= =/- .005
Material Used

Aluminum .090 & .063
Material Finish

Powder Coat
In process testing/inspection performed

Dimensional Inspection and Visual Inspection
Industry for Use

Telecommunications
Volume

100 per yr
Delivery/Turnaround Time

6 weeks
Delivery Location

Texas, Mexico
Standards Met

Customer Specifications
Product Name

Custom Enclosure