Fabrication of a Common Shelf Assembly for the Telecommunications Industry
(click on thumbnail to enlarge)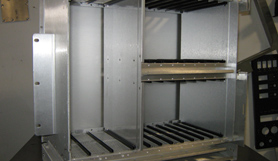 G & M Metal Fabricators was commissioned to manufacture a custom shelf assembly to house equipment for the telecommunications industry. This common shelf as highlighted here was constructed using aluminum, which was cut and formed with our press brake and punch press. Our certified expert welders also employed spot welding on this unit. This project followed the tolerance protocols of X= ± .012 and XX= ± .010. We assembled the part, and treated the completed unit to a RoHS compliant clear chromate finish. Accuracy was assured with visual and dimensional inspections.
The completed length as measured centerline to centerline of mounting holes was 22.753", and 18.598" wide. 1 unit was completed for this project after a turnaround time of 4 weeks and shipped to the client in New Hampshire. G&M Metal Fabricators are a reliable and consistent provider of high quality metal fabrications at competitive prices, utilizing the latest in manufacturing technology. For more details about this custom common shelf assembly please see the table below, or contact us directly.
Highlights of this Shelf Assembly Fabrication
Product Description

Common Shelf Assembly for telecommunications equipment
Metal Fabrication Capabilities Applied/Processes

Primary:
Fabrication

Welding
Forming
Spot Welding
Cutting

Secondary:
Assembly
Clear Chromating - RoHS Compliant
Equipment Used to Manufacture Part

Press brake, Punch Press, Spot Welding
Overall Part Dimensions

Length: 22.753" - centerline to centerline of mounting holes
Width: 18.598"
Tightest Tolerances

X= +/- .012 , XX= +/- .010
Material Used

Aluminum
Material Finish

RoHS Clear
In process testing/inspection performed

Dimensional Inspection, Visual Inspection
Industry for Use

Telecommunications
Volume

1
Delivery/Turnaround Time

4 weeks
Delivery Location

New Hampshire
Standards Met

Customer Specifications, 2D CAD Drawings
Product Name

Common Shelf Assembly